Makeover with Burlap Bags
I'm so glad to be writing again. After a week of a horrible virus and more cleaning than I've done in ages, it's so good to be visiting with you! I learned one really interesting fact last week: my family happens to be world class at spraying toothpaste. I found little dots of toothpaste on the ceiling and in rooms other than the bathroom...amazing! Our house is successfully on the market and we held our first open house on Sunday. I'll be sharing a home tour with you soon so you can know all the juicy details like what color mums I chose this year. Inquiring minds want to know.
Today I thought I'd share a quick little project I whipped up for the screen porch. I've been selling my matchy/matchy patio furniture that you saw in
this post
, on Craigslist and staged the porch as another dining area. It really is perfect for dining al fresco.
I started with this basic stool which had a simple form but the most horrible fabric from the 1980s. I purchased two of these for $10 each at a second hand furniture store over a year ago. I saw the potential right away but didn't know what I was going to do with them. Now during my cleaning out stage it was time to get a project done or send them packing.
I had a pile of burlap bags that I was also meaning to use. (This is precisely how things got a little cluttered around here. I see potential everywhere!) I covered the seat to show off the great vintage graphics and then needed an easy way to cover the legs.
I did not want to sew anything so I just simply cut the bags into two pieces---a printed front side and a plain back side. I gathered and stapled alternating sides with the printed and plain burlap.
I was okay with unfinished edges because I was working with burlap and it frays beautifully. It's also an outside project, but I did not like the staples showing so I covered them with brass upholstery tacks.
I used this burlap bag with the deer on it as the seat cover for the other stool because deer are "SO WISCONSIN".
Stop by again tomorrow because I will be showing more of my al fresco dining area and sharing some more design ideas.
Some people weave burlap into the fabric of our lives, and some weave gold thread. Both contribute to make the whole picture beautiful and unique.

Unknown

Do you have a place to dine outside?

I'm linking this post to Cassie at Primitive & Proper's Weekly Furniture Linky Party and Kim at Savvy Southern Style and Feathered Nest Friday at French Country Cottage, too!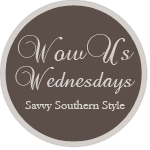 Trackbacks